You are currently browsing all posts tagged with 'homeless'.
posted on Saturday, December 10th, 2011 at 7:45 pm
A motto of the Lighthouse Center in Virginia Beach is that "we are homeless, not helpless." As it turns out there could hardly be a more prophetic slogan. The current facility, located at 825 18th Street, has to go. It is slam in the middle of the Convention Center corridor that is slated for development as the "Central Beach District", identified in the new Form-based code.
Volunteers of America Chesapeake, operates the Lighthouse Center day services program for homeless adults in Virginia Beach, VA. It is one of 36 Volunteers of America national affiliates that originated in 1896. This 501-C3 non-profit organization has been in operation in Virginia Beach since 1997. They are causiously cooperating with the relocation plans, asking that the City provides a proper site on which it will be able to expand its operations to include shelter facilities and meals for the local homeless population.
In response to the Lighthouse Center's proviso the City Department of Housing and Neighborhood Preservation has made it a matter of public deliberation that all constituencies be included in the relocation decisions as well as the expanded scope of operations of the new facility. A public "kick-off" meeting was conducted on December 5, 2011. The agenda was promoted as: What method/process should we use to develop the campus proposal. The campus model is exemplified by Norfolk's Union Mission Ministries, also Broward County in Fort Lauderdale, FL.
It is understandable that the Lighthouse Center volunteers and managers are guarded about the involvement of other citizens in their future facility prospects. Some faces were familiar at the "kick off", including the Judeo-Christian Outreach and the People in Need ministries. But there were over a hundred persons at the kickoff meeting. What were all these other people doing there? "At no time in the past have the City administrators taken more than a passing interest in the plight of the homeless," commented one of the meeting attendees. The Lighthouse Center happens to be located where the City officials want to locate a 4-star hotel.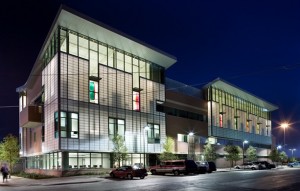 An architectural concept was displayed at the meeting by the DHNP staff, a brilliant shining campus facility located in Dallas, TX, The Bridge Homeless Assistance Center. It was suggested that there could be a design competition to generate ideas for the new campus of buildings, including low cost transition apartments, until opportunities for home ownership can be found for the residents. It was suggested that a competition solicitation proposal would be forthcoming during the month of January, derived from suggestions and comments gleaned from the audience comments and suggestions gathered on the DHNP website.
My observation about the website is that there is not opportunity to leave your comments and suggestions directly on the site. You must send an email to housenp@vbgov.com or even better to Natalie Anderson nanderso@vbgov.com, the program coordination.
Questions about possible locations of the new homeless campus were deliberately avoided, although rumors were flying about where the City would like the location to be. It is obvious that the staff recommendation of a design competition must be associated with a specific site though none were mentioned at the meeting. There is always the possibility of an unsolicited RFP from a philantropic minded land owner.
Tags: campus, homeless, housing and neighborhood preservation, Lighthouse Center, Persons in Need, virginia beach, Volunteers of America
posted on Wednesday, December 7th, 2011 at 10:14 pm
Since its inception in 2000, the The Rose Architectural Fellowship has achieved dramatic results in neighborhoods across the country. To date, 35 Rose Fellows have been sponsored, to devote their design and organizational skills to help their host organizations create or preserve over 7,000 sustainable, affordable homes and 43 much-needed community facilities for low-income people in underserved communities.
In an effort to improve the delivery of excellent building and site design in traditionally underserved communities and low-income areas The Rose Fellowship selects and funds talented young designers for a 3-year placement into specific community development project assignments. The mission of the Rose Fellowship is "to inspire and nurture a new generation of architects as lifelong leaders dedicated to creating sustainable communities for people at all income levels."
A great example of a Rose Fellow's work can be found Christiansburg in the Blue Ridge Mountains of Virginia. The Tekoa Residential Youth Campus was created by Community Design Studio with the participation of a Rose fellow. That project was designed to provide housing, education and services for 20 at-risk boys. Situated on 15 acres, the building is designed to be 50 percent more energy efficient than typical buildings, with key energy saving components, including a geothermal heating/cooling system and a rainwater-capture irrigation system.
It is worth noting that the Tekoa Youth project provided for the administrative staff and even the residents to participate throughout the design process to incorporate learning opportunities into the site design. The campus helps its residents overcome their psychological, academic and social challenges, while serving as a model for energy efficiency, social sustainability and environmental stewardship.
Another example of a project that was assigned to a Rose Fellow is about to begin construction in Chesapeake, Virginia. The project, named Herons Landing, provides 60 single-occupant apartments for low income and otherwise homeless residents. It is built to Earthcraft and Energy Star specifications. An aspiring young architect worked on assignment from Rose Fellowship directly for the architect.
A third inspired project that is among the The Rose Fellow portfolio of accomplishments is located in Northwest Chicago by Bickerdike Redevelopment Corporation. The Rosa Parks project consists of eight rehabilitated buildings, including one that is certified LEED Gold. Bickerdike's dedication to the creation of the project included green living and skill development workshops for the residents. The work experience for the young Rose Fellow that was assigned this project will shape his whole life both professionally and personally.
Tags: at-risk youth, Bickerdike Redevelopment Corporation, Blue Ridge Mountains, Chesapeake, Chicago, Christiansburg, Community Design Studio, community facilities, Earthcraft, energy efficient, energy saving, Energy Star, geothermal, Herons Landing, homeless, LEED Gold, low-income families, rainwater-capture, sustainable, The Rosa Parks Project, The Rose Architectural Fellowship, The Tekoa Residential Youth Campus, Virginia
posted on Saturday, November 19th, 2011 at 7:46 pm
A recent report has been disseminated by the City of Virginia Beach, Department of Housing and Neighborhood Preservation, entitled Comparative Analysis of Homeless Facilities and Programs in Selected U.S. Cities and Counties. The study was written in response to citizen advocates for the homeless, that Virginia Beach is not doing enough for its homeless population. The report documents that Virginia Beach has less of a "problem" than the other resort cities studied. It also acknowledges that its Lighthouse Center "day service only" facility is slated to be relocated in the near future.
The homeless advocates in Virginia Beach have been meeting with city officials over the past two months to push for a new facility that will include a full spectrum of services (meals, case management, counseling, healthcare, training, etc.) and overnight shelter for the homeless in the same location. This "campus style" operations center should be located convenient to main transportation routes although there is not special requirement for a particular land use setting or proximity to the resort area.
The opportunity to convert existing building(s) to initiate the new facility is a financially attractive place to start. That is how Norfolk's Union Mission landed its current location in the former Virginia Natural Gas property near Military Circle in 2009. (Earlier this month there was a ground breaking event for the new men's shelter.) Finding the property for a new facility in Virginia Beach will be a controversial undertaking. There is currently $4.3 million budgeted for moving the Lighthouse Center.
I want to say that there is a facilities model that did not show up in the Virginia Beach Comparative Study report. I have named this idea the "campsite campus" model and compare it to the way temporary classroom buildings are set up when some of our public schools become overcrowded, until a capital improvement project is undertaken.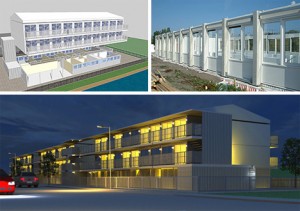 Adjacent to Virginia Beach are the ports of Hampton Roads and a significant shipping terminal industry with an abundance of shipping containers that can be converted into housing units for meeting homeless shelter needs in the near term. This is not a new idea but it would be new to Hampton Roads. It should be thoroughly investigated.
Shown here is a Dutch Salvation Army facility. The ground floor of the building is made of traditional materials and is used for office and social space; the second and third floors are made of shipping containers and are used as individual housing units for tenants.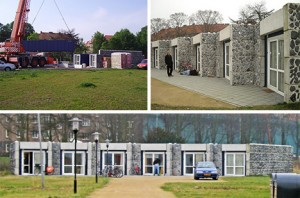 In Danish, the term "skaeve huse" means something like "special houses for special people." This project, shown on the right was built in 2006. It provides housing for people who are unable to procure traditional housing due to mental illness and other special needs.
Roger Chesney reported in his Virginian Pilot column last week that the Virginia Beach Department of Housing and Neighborhood Preservation will need 18 months to open a new facility. That sounds very reasonable to me although it would certainly help accelerate the process if there was an opportunity to use campsite style shelters.
Tags: campus, container, homeless, location, model, Norfolk, shelter, shipping, virginia beach, yurts